Why Register With Us
We offer a personalised service that focuses on health and wellbeing
Modern purpose built building with excellent access for those with restricted mobility including disabled parking, ramps & a lift
Research active practice –Primary Care Research Network member, involved with national studies to improve patient care
Accredited training practice – undergraduate & postgraduate doctors in training. Active in training the next generation of doctors
Gallery space for artists, voluntary organisations.
Social media presence including a Facebook page to keep you up to date with latest news from the surgery.
Free WiFi throughout the surgery
Online appointment booking and cancellation service. Please see cancellation policy below: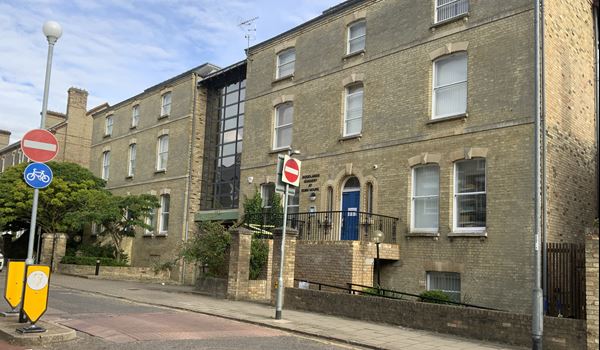 How To Register
Our practice will only accept patients who live within

CB1-CB5

area.
In person - Please ask a receptionists for the relevant forms.
Online – For those ages 16+ (see pre registration form below)
Email - If you wish to register anyone under the age of 16 please email your request to CAPCCG.woodlands@nhs.net
ID and Proof of Address is required for all registrations you will need to send it to us via email. You will need to fill in all forms, the pre-registration form, new patient questionnaire & consent form.
If you have just arrived from abroad you will need to enter date of entry into the UK.
If you do not your registration will be rejected.
Please allow 7 working days for the registration process.
Disabled Patient Facilities Available
Woodlands Surgery is disability friendly and accessible to all.
We provide:
Wheelchair accessible ramps at the front and rear basement entrances

Two disabled parking bays at the rear of the building

Automatic doors throughout the building

Lift access

Diabled toilets located on three floors

Audio induction loop
Temporary Patient Registrations
If you are ill while away from home or if you are not registered with a doctor but need to see one you can receive emergency treatment from the local GP practice for 14 days. After 14 days you will need to register as a temporary or permanent patient.
You can be registered as a temporary patient for up to three months. This will allow you to be on the local practice list and still remain a patient of your permanent GP. After three months you will have to re-register as a temporary patient or permanently register with that practice.
To register as a temporary patient simply contact the local practice you wish to use. Practices do not have to accept you as a temporary patient although they do have an obligation to offer emergency treatment. You cannot register as a temporary patient at a practice in the town or area where you are already registered.
Non-English Speakers
These fact sheets have been written to explain the role of UK health services, the National Health Service (NHS), to newly-arrived individuals seeking asylum. They cover issues such as the role of GPs, their function as gatekeepers to the health services, how to register and how to access emergency services.
Special care has been taken to ensure that information is given in clear language, and the content and style has been tested with user groups.
Open the leaflets in one of the following languages: